From the top deck of the Stade de France came a tricolor, a shimmering butterfly of red, white and blue, floating through the sultry Paris night, catching the disco lights as it fell to earth. Then another. And another. Then – a little less poetically – a can of Coke Zero, spraying little droplets of brown liquid across a dozen rows. The air was thick with joy and sweetness. Nobody was leaving. In an unfathomable September heatwave, France was having a scorching summer party, and even though the game was over, all eyes were on the dancefloor.
Damian Penaud, the man who shook this game open in the second half, now shook a fist at his adoring public. Grégory Aldritt's face was bright red, not out of embarrassment but out of sheer superhuman effort, the face of a man who had given his body to the cause and had nothing left to give.
Meanwhile, the black shirts of New Zealand paced around a little dazed and confused. There is nothing quite as disorienting as the sight of beaten All Blacks. Everybody loses, but somehow when New Zealand lose it is as if they have been deprogrammed. They stumble around zombified, occasionally feigning a smile or a grimace, but mostly wondering what the hell just happened.
And perhaps the greatest compliment you could pay France on a storming opening night of the Rugby World Cup is that they did to New Zealand what the All Blacks have so invariably done to others. Gritting out the tough periods, shrugging off their errors, keeping the score down, moving through the gears, sniffing out weakness and then running riot in the last quarter. This was a performance straight out of the All Blacks' playbook, and so perhaps the reason they looked so stunned afterwards was they had been confronted with a frightening mutation of themselves.
For France did not begin the better side. Indeed they were a score down within 90 seconds and spent most of the first half trying and failing to punch holes in the New Zealand defence, kicking away good possession and inviting agonising pressure on their own line. But the great sides react, evolve, respond. By the uproarious finish they were almost toying with New Zealand, flinging the ball around with abandon, playing no-look passes just because they could, rugby not as sport or even as project, but as pure expression. France did not concede a single penalty in that second half.
But really it was the first half that was the key here: a nightmare start and a scruffy opening that somehow ended with France ahead on the scoreboard. For all the fluency and flair that France have displayed over the last couple of years it is in periods like this that they have really shown their worth: defending their lines, doing the ugly, brutish work, finding other ways to prevail.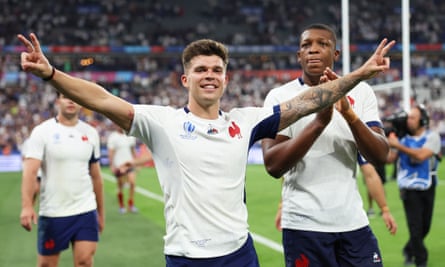 Antoine Dupont may not have been at his mesmeric best with the ball but he more than compensated in defence, harvesting six tackles and a turnover. Alldritt was leaving business cards all over the gain line. Charles Ollivon stole an early lineout and Thomas Ramos brought the crowd to their feet with a brilliant high claim.
And through it all, the Stade de France crowd remained defiant. It had been a brutal day in Paris, 35C in the shade and a good deal hotter than that in the packed Métro carriages. Sodden blue jerseys clinging to sweaty shoulders, fans with berets using the berets as fans. But as the sun began to set and France resisted the waves of New Zealand attack, the stands shook to the strains of La Marseillaise: a game of rugby conducted with all the fervour and devotion of a military campaign. French rugby has always had a vaguely conditional relationship with its public. But here, in these moments, they were one and whole.
After the break, the surge. Mark Telea's second try had the feel of a game-breaker, but in hindsight was the firestarter. First Penaud collected Matthieu Jalibert's cute crossfield kick as if popping a sandwich in his pocket, and was denied only by a brilliant tackle from Richie Mo'unga. Then a scything run from Jalibert, Ramos swerving alongside him on the decoy, Penaud touching down. Will Jordan collected a yellow card for upending Ramos in the air.
Momentum is one of the most powerful weapons in sport, and as France ran rampant in those closing minutes you could almost feel the crackles of electricity, the thrilling frissons of a team and a stadium and a city and a country fusing themselves together in love.
You might ask whether, ultimately, any of this really matters. For all New Zealand's chagrin and for all France's ecstasy it is almost certain that both will qualify from the group with barely an advantage either way. Both still have flaws to work on, combinations to drill, improvements to mine. But you try sitting in that stadium, with the tricolors fluttering and the lights flickering and the pools of sweat collecting in the smalls of 80,000 backs, and tell those delirious Parisians that this was a meaningless pool game.
For years this date had been ringed in the calendar. French rugby had been waiting a long time for this night. And now you sense that it is more convinced than ever before that its destiny is close at hand.